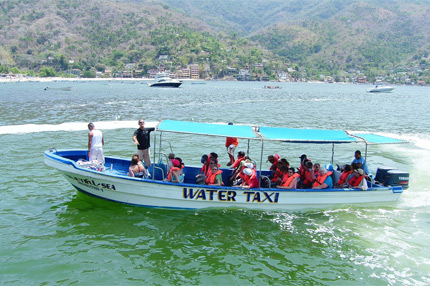 Departures From Puerto Vallarta
Departures From Yelapa
Rates
One way: $220 pesos ($13 USD)
Round Trip: $380 pesos ($22 USD)
These rates are per person.
Book A Water Taxi (To and from Yelapa)
Welcome aboard, this is your water taxi to Yelapa. It is a pleasure being able to assist you on your travels.
In Yelapa we do not have any roads; therefore, the only way to get there is through a 45-minute ride on a Water Taxi or a "panga" as we locally call it here in Yelapa. This is quite an experience!
The water taxi departs from the Pier at "Los muertos" beach in Puerto Vallarta. This pier is approximately 20 minutes from the International Airport Lic. Gustavo Díaz Ordaz and 25 minutes from the Bus Station.
Each year the number of visitors to Yelapa increases and the spots on the Water Taxi are limited. It is for this reason, that we suggest our clients to purchase their tickets in advance.
Buy Your Ticket Here
Please fill out the form below and make sure to provide us with a valid email address as we will send your confirmation there.